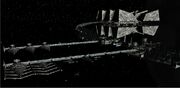 The Type VII Orbital Drydock is the seventh in a series of orbital shipyard stations that are based on the KDY stations. It spans several Kilometers of space and it capable of holding up to 24 vessels 4,000 meters or less while simultaneously holding 2 vessels 20,000 meters or less in the upper bays. The upper bays can be used to prepare 6 more vessels of 4,000 meters or less as well. It utilizes 20 Executor engines to maneuver out of a planet's gravity well and possesses a class 5 hyperdrive to move system-to-system.
Technical Specifications
Edit
Length:
Width:
Height:
Hull:
Armament: (FOR DEFENSE ONLY)
Speed:
20 MGLT, (Does not enter atmosphere)
Crew:
Engines:
Hyperdrive:
2,000,000,000 credits
Ad blocker interference detected!
Wikia is a free-to-use site that makes money from advertising. We have a modified experience for viewers using ad blockers

Wikia is not accessible if you've made further modifications. Remove the custom ad blocker rule(s) and the page will load as expected.