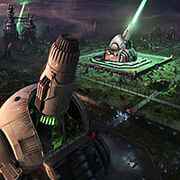 The SS-2 Planetary Plasma Cannon is one of the ultimate planetary defense cannons. It utilizes thermal energy to power the massive demands that the cannon demands in order to fire. The SS-2 relies on satellite and spotter up-links in order to track and fire at targets.
Technical Specifications
Edit
Length:
Width:
Height:
Armor:
Armaments:
Shielding:
100,000 credits
Ad blocker interference detected!
Wikia is a free-to-use site that makes money from advertising. We have a modified experience for viewers using ad blockers

Wikia is not accessible if you've made further modifications. Remove the custom ad blocker rule(s) and the page will load as expected.