New Order of the Eye Assault Platform (NOE-AP)
Edit
The NOE-AP (New Order of the Eye Assault Platform) was designed as a rapid attack Mech. Being such the NOE-AP is considerably fast compared to other Mechs or walkers of the same weight. This is because the NOE-AP uses a light but durable frame and is designed to rush around the center of the battlefield firing its payload. One upper hand that this Mech does hold is in maneuverability with a jet-assisted jumping distance of one hundred and twenty meters to allow the NOE-AP to easily seize the high ground to give it an advantageous position for fire support operations.
Technical Specs
Edit
Height
Width
Length
Armor
.5 cm of Impervium plating over 8 Tons of 9095Durasteel/Titanium mix.
Speed
2 MRM-30 Missile Launchers (Fires Medium Range Missiles)
4 Laser Cannons
195,000 republic credits
Production
Edit
Produced Exclusively by DeathTech Industries on the planet Sump. The NOE-AP provides for a great asset for any military force.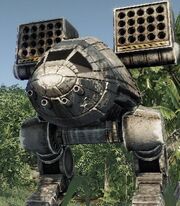 Ad blocker interference detected!
Wikia is a free-to-use site that makes money from advertising. We have a modified experience for viewers using ad blockers

Wikia is not accessible if you've made further modifications. Remove the custom ad blocker rule(s) and the page will load as expected.