‎
Michael A. Warmkessel
Biographical information
Homeworld
Born
Physical description
Species
Gender
Height

6' 3"

Hair color

Light Brown

Eye color

Blue

Skin color

Caucasian

Chronological and political information
Affiliation
"You want me to have them do what? Arden would never do that, what's wrong with you? "
―Michael Warmkessel

''Michael A. Warmkessel is an amateur writer working on a series of books about the life and history of Jedi Master Arden Brandwyn.

He is from Allentown PA and has been a fan of Star Wars for many years, many of his back stories for his characters are made up on the spot and then sketched out into a fully developed back story, some of his character creations include Arden Brandwyn, Warek Mychi, Oran Lysippe-Dyre, Reginald Colton, Alana Brandwyn, and Lord Xerxan the undead Sith lord...

As well as others such as Kenson Zezu-Its and Juan Zezu-Its played by his brother on JvS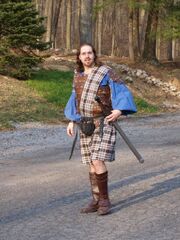 |Source=*Hidden Jedi: The Story of Arden Brandwyn - Author: Michael A. Warmkessel
Copywrite HKW Publications 1999
Ad blocker interference detected!
Wikia is a free-to-use site that makes money from advertising. We have a modified experience for viewers using ad blockers

Wikia is not accessible if you've made further modifications. Remove the custom ad blocker rule(s) and the page will load as expected.